Healthy Smiles Start Here
As your child grows, it's important to keep their mouth healthy and maintain positive oral hygiene habits. Frequent visits to a family dentist like Dulles Life Smiles will ensure that your child's mouth is developing properly and help your little one avoid common oral health issues like tooth decay.
Come see us in Ashburn today, or just fill out the short form on your screen to get in touch with our team.
Is Your Little One Due For a Checkup?
Seeing the dentist regularly from a young age will decrease the likelihood that your child will develop dental anxiety and regular preventive cleanings* help avoid common oral issues that can require more costly restorative care. We can keep your child feeling safe and comfortable throughout their appointment with gentle sedation treatments when requested.
Gentle Sedation
Laughing gas is a mild sedative delivered through a special nose mask. With this sedation option, your child will feel comfortable, relaxed, and safe during their entire appointment at Dulles Life Smiles. Once treatment is complete, the effects of laughing gas will subside within a few short minutes so you and your family can enjoy the rest of your day as your normally would.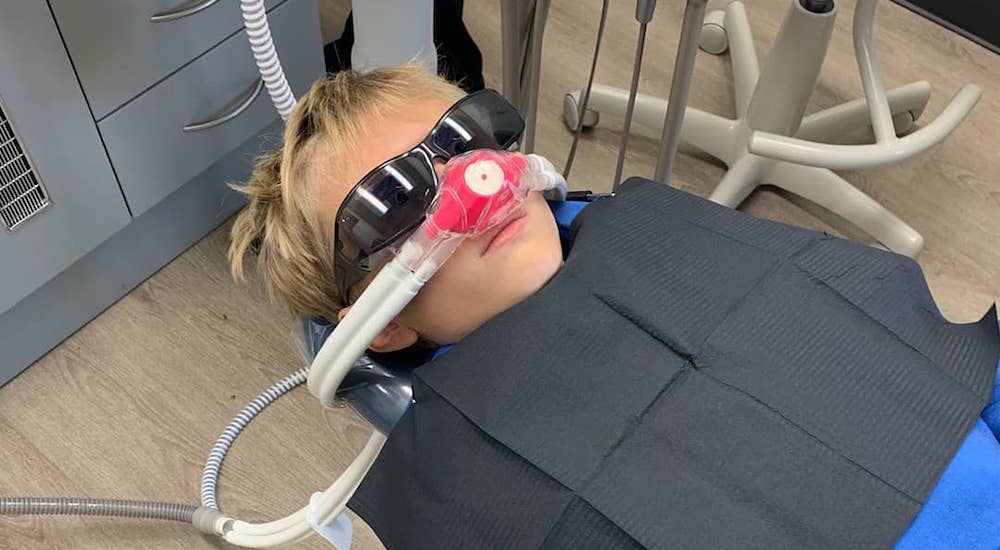 Stainless Steel Crowns
If your child has a serious cavity in a baby tooth, a stainless steel crown is often recommended instead of a filling. Stainless steel crowns are durable and cost effective, and will protect your child's baby tooth until it falls out naturally as they grow. Whether your child's baby tooth has been damaged by extensive decay or an oral injury, we can help with a stainless steel crown!
Space Maintainers
If your child loses a baby tooth prematurely, a space maintainer may be required to keep their smile healthy. Space maintainers are placed in the gap where their missing tooth used to be, preventing teeth from shifting toward it. This ensures that your child's adult teeth will erupt properly, and that their oral development will not be harmed by losing a tooth too early.
Frenectomies
A frenectomy may be necessary if your child has a tongue tie or lip tie. Tongue and lip ties are thick bands of tissue that interfere with the proper movement of the tongue and lips. This can cause difficulties with proper nursing, speech, and more. During your consultation, Dr. Gino will determine whether your child has a tongue or lip tie, and he will answer any questions you may have about treatment.
Pulpotomies
A pulpotomy may be required if your child's baby tooth becomes infected. During treatment, Dr. Gino will clean and disinfect the inside of your child's tooth and restore it with a crown, preserving the tooth until it falls out naturally. This treatment will get your child out of pain and restore their carefree smile.
Early Orthodontics
If your child has a small palate or serious orthodontic issues, it may be best to begin orthodontic treatment as early as age 6-8. Dr. Gino can diagnose early orthodontic problems and help you get the care your child needs. During orthodontic screenings, we will assess your child's smile to determine whether early orthodontic treatment is necessary. If so, we will go over all of your treatment options and answer any questions you may have to help you make an informed decision about your child's care.
Let Dulles Life Smiles Take Care Of Your Child's Dental Health
It can be difficult to find a dentist you trust, but Dulles Life Smiles maintains a high standard of oral care that will keep you safe and relaxed, plus keep your smile bright. Our Pediatric Dentistry understands that strong families are built on happy foundations...
... so visit us in Ashburn and start your bright new tomorrow today!
*ADA CODE D1110 or D1120