Get The High-Quality Dental Care You Deserve
Our goal at Dulles Life Smiles is to help our patients achieve and maintain amazing dental health. Our Oral Surgery options will ensure that you and your family stay comfortable. We offer the Ashburn community everything from oral appliance therapy for TMJ/TMD to custom mouthguards for patients suffering from sleep apnea, and we would be honored to become part of your oral care routine!
Call us today or simply fill out the short form below and we'll reach out to you about your personal dentistry needs!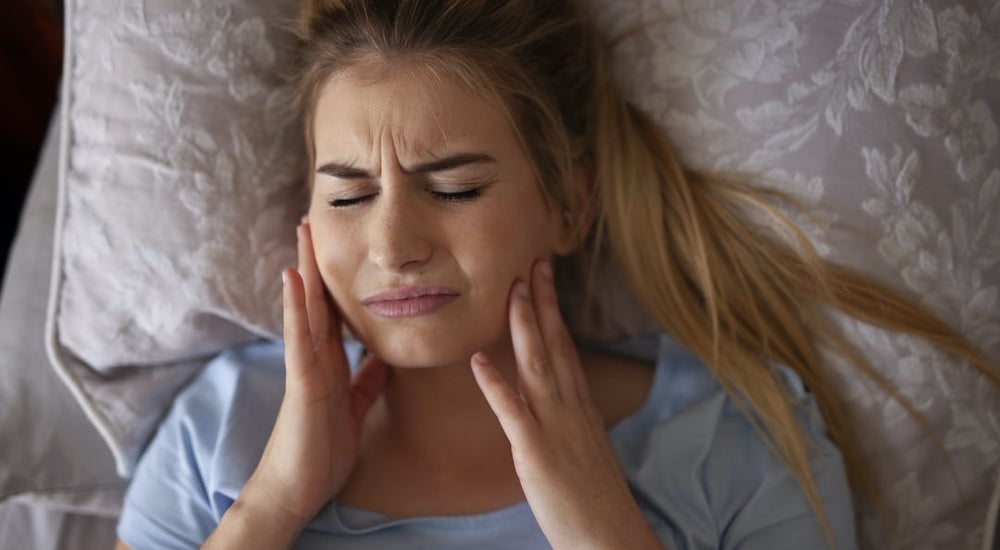 Get Relief From Jaw Pain
If you have been experiencing issues with your jaw, it's possible that you have TMJ/TMD. There are a variety of different signs and symptoms that are common in TMJ/TMD patients. Here are a few of the most common and easy-to-recognize signs that may indicate an issue with your temporomandibular joint.
Jaw Pain, Stiffness, & Discomfort:

You may experience a lot of pain or discomfort around your ears, or throughout your jaw. This pain can even cause migraine headaches and other symptoms.

Pain or Difficulty When Chewing:

With TMJ/TMD, it's common for your jaw to hurt or ache when chewing, particularly if you are chewing very tough or hard foods.

Jaw "Clicking" or "Popping":

If your jaw frequently makes clicking or popping sounds, particularly in conjunction with the other symptoms of TMJ/TMD, you may need to get help from Dr. Gino. In severe cases, your jaw may even become stuck or locked in place.
If you're suffering from jaw pain, stiffness, or soreness, you may have TMJ/TMD, and Dr. Gino can help at Dulles Life Smiles.
TMJ/TMD Treatment With Oral Appliance & Botox
Oral appliance therapy is a great option for TMJ/TMD treatment. In this treatment, Dr. Gino will create a custom-fitted oral appliance that will reposition your jaws while you sleep, relieving strain on the temporomandibular joint and allowing it to heal properly.
‍
Botox is another option for treating TMJ/TMD, particularly if Dr. Gino believes your TMJ/TMD is caused by bruxism (teeth grinding). Botox can be injected directly into your jaw muscles, where it will selectively paralyze the muscles and prevent grinding and overuse of your temporomandibular joint.
Get Help For Obstructive Sleep Apnea
Wondering what the top signs of sleep apnea may be, and how to recognize it in yourself or in your sleeping partner? Here are a few of the most common signs you can look out for to detect sleep apnea.
Snoring With Choking/Gasping Notes:

Snoring alone does not necessarily mean that you have sleep apnea. However, if you frequently snore and have interruptions in snoring that are accompanied by gasping or choking, this is a very common sign of sleep apnea.

Poor Quality Sleep:

Sleep apnea interferes with your ability to get a restful night of sleep. You may toss and turn and have insomnia, feel poorly-rested even after sleeping for 7-8 hours or longer, and feel drowsy during the day.

Personality Changes:

Sleep apnea can make you feel more irritable, contribute to mood swings, cause you to have problems focusing or paying attention, and even decrease your sex drive.
Obstructive Sleep Apnea (OSA) is the most common sleep disorder in America. At Dulles Life Smiles, Dr. Gino can help you get the care you need for a restful night of sleep.
Sleep Apnea Treatment Options
The most common method of treating sleep apnea is a CPAP (continuous positive airway pressure) machine. This consists of a pump with a mask that covers the mouth and nose, and delivers a gently-pressurized stream of air into the lungs. This prevents the collapse of tissue in your airway, preventing sleep apnea.
‍
Oral Appliance Therapy (OAT) at Dulles Life Smiles is another option for minor-to-moderate apnea. This treatment uses an oral appliance that looks similar to a night guard for teeth grinding. This device shifts your jaw into a healthier position as you sleep, which prevents tissue from sagging and blocking your airway.
‍
Along with these treatments, most doctors also recommend lifestyle changes, such as sleeping on the back or side, losing weight, ceasing smoking, stopping the use of alcohol or sedative medications, and other such changes that can help eliminate sleep apnea.
Experience Ashburn's Best Oral Surgery Services Today!
Whether you're suffering from TMD or sleep apnea, our team at Dulles Life Smiles is happy to offer you quality solutions at affordable prices. We've helped dozens of families across Ashburn enjoy brighter smiles and better oral health, and we can help you be proud of your smile again.
Call us or just fill out the short form below to get more information on how we can connect you with dental services that are right for you!