Enjoy A Sparkling Smile With Our Cosmetic Dentistry Services
Let's face it: life can be pretty tough on our teeth. We're constantly staining them and stripping away that natural white glow we all love. We're chomping down and chipping away almost every single day.
But that doesn't mean you have to be stuck walking around with that lifetime of wear and tear. At Dulles Life Smiles, our cosmetic dentistry give you the chance to reset your smile and protect your natural teeth from decay for years to come.
Fill out the short form on your screen today to learn more about why cosmetic dentistry might be the best fit for you.
Perfect Your Smile With Cosmetic Dentistry
If you're self-conscious about your smile due to issues like stains, gaps, and misshapen teeth, Dulles Life Smiles is here to help with expert cosmetic dentistry services in Ashburn.
In-Office & Take-Home Teeth Whitening
We offer both in-office and take-home teeth whitening. In-office whitening is a great option if you want fast results for a special occasion. During this procedure, we will apply a professional-grade whitening agent to your teeth and use a UV light to expedite the whitening process. In just an hour, you can brighten your smile up to 5-10 shades. Take-home whitening provides more subtle, gradual results and allows you to treat yourself in the comfort of your own home over the course of a few weeks.
Dental Veneers
Veneers are thin, tooth-shaped prosthetics that are made of durable porcelain. They are designed to fit over the front of your teeth and address a variety of cosmetic issues. Treatment usually takes two to three appointments at Dulles Life Smiles.
Enameloplasty
Enameloplasty involves buffing away a thin layer of enamel from some of your teeth to remove imperfections like minor chips and pointed teeth, and provide you with a more even, appealing smile.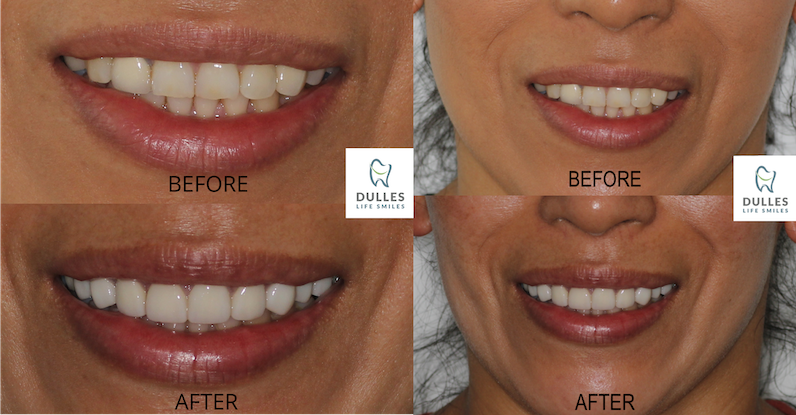 Learn More About Our Cosmetic Dentistry And Everything Else We Have To Offer
Not sure which treatment is right for you, or think you may need more than one cosmetic treatment? Schedule a consultation with Dr. Gino to see if a personalized cosmetic makeover may suit your needs. During your consultation, you'll be able to express your smile goals, ask any questions you may have, and begin planning your cosmetic makeover. We offer a communicative approach and we always keep your needs, preferences, budget, and lifestyle in mind when planning your cosmetic treatments.
Fill out the short form on your screen to learn more or come see us here in Ashburn today!